Here at the Saraswati Education Centre/Yoga Education Training Society, we supply accommodation, Somit Paying Guest House for anybody needing a place to stay while they volunteer or undertake yoga classes or City Tour. There are currently 6 bedrooms, with car petted floors. Four rooms have a double bed and the other has a single. Pillows and blankets are supplied as well as plenty of space for luggage and your personal items. There is also a communal bathroom for Two double bed & One Single Bed, Two rooms are attached bathroom  with hot-water and a Western styled toilet. We have two double bed Air-condition rooms. Whole building we have Fast WiFi Internet access. As we are located two minutes away from the Ganges, you will have markets, cafe's and the beautiful river at your fingertips, all are walking distance. From the roof top Ganga view and whole city, The yoga room just upstairs as well as a rooftop area with a view of the Old City. Downstairs is the classroom as well a lobby with a computer, television and sitting area. We provide free WiFi and free advice for those wishing to take a tour around Varanasi. Roof top we have Bowl of Compassion ( Children charity cafe ) where you can order many kinds of Indian delicious food make by older student with hygienic way. Each room cost minimum 300 Rs.- 1600 Rupees for per person.  We provide our Volunteers / Guest all helps in Varanasi.
For Booking the Rooms Please send us e.mail from these link Contact for Rooms/Volunteering ( from the top of these page 2nd line ) and please write to us your room type and budget too. We will back ASAP with reply thanks for your patience.
Deluxe Double bed Room with air condition & attach bathroom
                              ( with breakfast )                                                       -    1600 Rs.                                                                     without breakfast                -    1100 Rs.
Budget Double Bed Room with share bathroom
                             (  with breakfast )                                                       - 1000 Rs.                                                                         without breakfast                -    700 Rs.
Single Room for one person with share bathroom 
                             ( with breakfast  )                                                       -  800 Rs.                                                                          without breakfast                -    500 Rs.

Dromedary Room with share bathroom
                            ( with breakfast )                                                         - 600 Rs.
( in one room 7 single beds above price is each person, per night )                                                                                                 without foods   -    300 Rs.




our E.mail - somit_yoga@hotmail.com  ( write us your questions/ issues  &  get a quick response )
What"s app / Mobile number - +919839105112 ( Somit )
------------------------------------------------------------------------------------------------------------------------
VARANASI  TOUR  by our Expert Guide / Team members 
--------------------------------------------------------------------------------
Kashi or Varanasi is the one of the oldest living cities in the world and therefore any house in its by-lanes are at least 500 years old. Rigveda, an ancient Indian text composed between 1500-1200 BC, mentions of Kashi as the luminous. Known as the spiritual capital of India, it provides liberation or Moksha to those who die at the bank of the sacred river Ganges. Religiously, Kashi has been the center for Hindus, Jains, Sikhs and Buddhists. Abode of Lord Shiv, it is probably the only cosmopolitan where temples and mosques share the same boundary, a sight quite rare in this post-modern world.
       We have organized our tour in these all categories please see it here and if you want to mix any categories to any Part we can do it and all programs are in Tips / Donation base , Because All our Expert / team member are related from our charity program and your best tip / donation goes some part support in the charity education program. You stay anywhere in Varanasi any hotel / Guest House / Palace / Home stay ... if you want to take our service then drop us e.mail -       somit_yoga@hotmail.com  
                                                                OR
Mobile  number / What"s app number - +919839105112
( 1) WALKING TOUR :-  we  promise to take you to see unusual places of interest that we have discovered  though our wonderful, exceptional city. Our main aim is to provide you memorable. During the walking tour you can see real and old city by practical way,
you can also see in these walking tour live foods how to make on the street.
Visiting flower market ,
Fish market,
Spices palace,
Around the area old heritage buildings,
Varanasi Handicraft
Akharas ( oldest wrestling ground )
Jain Temple
Visiting Big Mosque 
Visiting Both Burning Ghat ( Manikarnika ghat & Harishchandra Ghat )
Take a taste of world famous Lassi
Visiting local families 
Walking tour of alleys , It is hidden gems of these cities it takes 3 hours.
Walking tour of Spiritual pond,  Ashram and Temples of Varanasi 3 hours.
( 2) Boat Tour - Sunrise boat tour to see sunrise & Ceremony ( 1 to 3 hours ) 
Sunset tour to see sunset & evening Ceremony from ganga  ( 1 to 3 hours )
Visiting Varanasi King palace , Ramnagar Fort by boat  (  3 to 5 hours )
Visiting All ghats step by step Assi ghat to Varuna ghat ( It takes 4 to 7 hours )
( 3) Cycle Rickshaw tour / Auto Ricksaw Tour / Car Tour - 
Visiting old city 
Center of the city 
Benaras Hindu University

Ramnagar fort ( Varanasi King Palace )

Temples ( far ones )

Village visiting

Water Falls
Visiting Allahabad , Bodhgaya, or other cities of India by Air-condition Car.
( All prices are depends which one you choose and which places so write to us we will reply you ASAP )
Important  - You are free to choose any trip and any plan, any where in the city or outside city. Just drop us e.mail / what"s app / Facebook. We will reply you ASAP.

                     All costs be pay by your-side to us Because We will organize in Best service in Incredible prices. Our guide will be on donation / Tip base / according of your budget .
 ***Our main aim is to provide to good view of our city so that you will recommend others also , Tourism increase here and will back yourself again in these holy city. If you will take our service , Help /Suggestion/ Trip Plan.. then..  you will give support in the poor , street , slums children free education and better life program***
write us e.mail for your any questions , trip / plan or  anything without any hesitation we will  back with reply ASAP.
E.mail -                                         somit_yoga@hotmail.com
What"s app / Mobile number - +919839105112
                                                      ( Somit )
Facebook Id -  ashokdutta3@yahoo.com    OR      somit yoga
Guest House Account Name  - SOMIT PAYING GUEST HOUSE,  Varanasi, India 
Account number                       -  914020017467348
Bank Name                                 -   AXIS BANK , Varanasi, 
Bank IFS Code                            -   UTIB0000287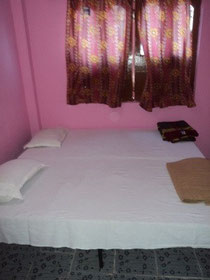 It is our Budget room with share bathroom , window we for fresh air and light , 24 hours WiFi, Fan and lights . Western Toilet with hot shower , room service 24 hours, Roof top relaxing place and restaurant with the view of Ganga and the city.